For the sake of making it simpler to explain, assume that the Recursion is allowed only to a depth of 2, i.e., only till level 2. At level 2, the function calculates a goodness value based on the position of the coins, advantage, etc. [Which I haven't discussed.] So, we have something like this:-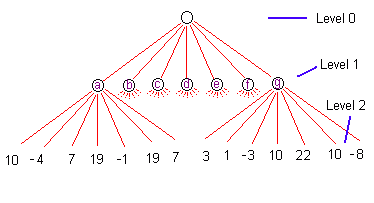 The values at the bottom are the goodness values for the given move. So, now, what will the value of 'a' be? The negative of the maximum of the 7 values, i.e., negative of 19, -19. So, a = -19. Suppose we've calculated the values of a, b and c and now we're on node d. Assume a(-19), b(-2), c(5). Suppose d has sub-nodes with values 3, -4, 10, 20, -18, 3, and 10. After the sweep through these nodes, d would have a value of -20.
Notice at this point that the value of -20 is useless to us, since c has the greatest value of 5, and hence, by no means will -20 be the maximum goodness value.